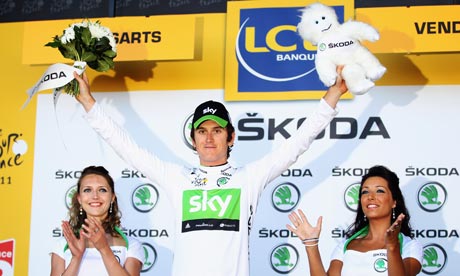 As I'm sure you will all remember earlier this year, British cyclist extraordinaire Geraint Thomas became the official international ambassador for Fixed Gear Leeds via Twitter - on the condition that we got him a few beers...
Geraint has been tearing through the field over the last 3 days of Le Tour and is currently sitting 4th in the GC at only 4 seconds off the lead and is celebrating his 3rd day in the White Jersey.
Le Tour is famous for being one of, if not the toughest sporting events in the world so to add an extra little incentive for when those legs start to burn we are offering the chance for G to RIDE FOR BEERS! Here's how it works....

White jersey - 25 beers (already secured!)
Top 20 finish - 25 beers
Yellow Jersey - 50 beers
Stage win - 50 beers

That's a total of 150 beers that are up for grabs and we'll even throw in a Fixed Gear Leeds t-shirt! (you can fob it off to Bradley if the size is too small)

Good luck, ride hard and think of how drunk you could be this time next month...